Swiftcolor printers work with inkjet technology and can print special coated papers and PVC cards very quickly and with a very brilliant resolution of 1200 dpi. Depending on the model, in addition to the standard ISO format, super-wide formats are also possible.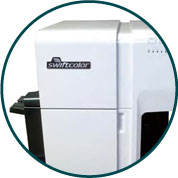 Swiftcolor SCC-4000D – Blazing Fast Ink Jet Technologie
The Swiftcolor SCC-4000D is a unique card printer that will print on the whole surface of a large format card (up to 88 x 140 mm – 3.5″ x 5.5″), with no pre-printing required. The printer is ideal for a range of applications and is quite versatile.