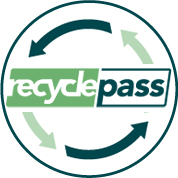 Professional IDs made from sustainable card material without PVC
Identification and accreditation systems help to optimally organize the access and the entitlement of employees and visitors. They also ensure the safety for everyone involved.
This is now also possible with the RecyclePass: Made from renewable raw materialsit can be di sposed of without any problems after its use. The non-plastic card can hardly be distinguished from PVC in its feel, durability and temperature resistance.
The injection molded blank card is food-safe according to FCN No.1574 / No.1643 and according to EU10 / 2011, and is compostable according to DIN 13432.
In its XXL format, the RecyclePass is ideal for use at major events such as festivals, sporting events, conferences and summits. The large credentials make it possible to identify from a distance who is accredited to go where.
The embossed RecyclePass logo serves as an additional security feature for the optical and tactile testing.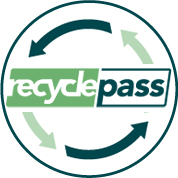 RecyclePass cards credit card format
In CR80 format (54 x 86 mm, credit card format), RecyclePass cards are ideal for employee ID cards, customer cards or price tags.
The basic cards are made from biomass (residual recycled renewable raw materials
for example sugar cane, hemp or corn) in white or any basic color (marble or slate effects are also possible). You can use offset and digital printing for the preprinted card, which then can be individually personalized with thermal transfer or thermal sublimation printing. The parameters of the personalization systems must be adjusted to the material.