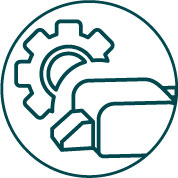 Selected, refurbished and tested pre-owned card printers – a cost-effective way for you to print your own plastic cards soon.
If you are interested in the purchase of a card printer or would like to equip your shop with a price tag printer, or simply would like to create membership cards or event badges, but you do not have the budget for this investment, then we will help you choose a suitable pre-owned plastic card printer. We usually have a selection of refurbished card printers in stock, no matter what price segment.
Every pre-owned card printer which qualifies for resale, is checked by a qualified technician for its configuration and condition, before it is cleaned, updated with the latest firmware and safely packaged (possibly not in the original packaging).
Whether it is a low-priced entry-level card printer with thermal sublimation technology, a card printer for high-end requirements with retransfer printing technology, or an event printer for oversized badges, we will find the right solution for your needs.
Please contact us with your requirements – we will come back to you with an attractive offer.