HID Fargo card printers combine professional print quality with highest user convenience. They offer a powerful combination of user friendliness, innovation, and high security features.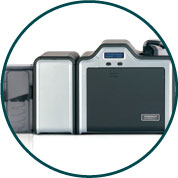 HDP5000 Retransfer-Printer
Whether you need to print state-of-the-art smart cards or plastic name badges, membership cards or RFID cards, employee badges or student ID cards, with the HDP5000, you have the perfect solution for all your needs.