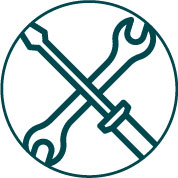 We specialize in card printers of the brands Tally DASCOM, Ciaat, Zebra, Nisca, Magicard, Matica, Hiti and Fargo, plus the XXL variants of these brands.
Smaller malfunctions can often be solved by our employees directly during a telephone call. When the equipment needs to be sent in, our team of trained and experienced technicians ensure that you receive a quotation at short notice.
After your release, the printer usually leaves our workshop on the same day. Should a repair last longer, we offer rental equipment to cover the repair period.
If desired, we can also arrange an on-site appointment at your premises.